Bedstraw Farm, Chipping Norton

Master Plan for 25 acres to be realised over 25 years. Phase 1 complete.
Major Design Elements: the master plan includes works to the main drive, parkland planting, native tree and shrub planting, Forecourt, stable yard, main canal, mirror pool and swimming pool gardens, Secret Garden, croquet lawn, terraces and orchards. Beyond the house are a 100-metre Wildlife Pond, a formal Walled Garden, swimming pool and kitchen garden along with gazebo, rotunda, hay meadows and woodland shelter belts.
The ironstone farmhouse is set in 3 acres of garden itself set in 25 acres of paddocks on a ridge with views of well-wooded undulating agricultural landscape. The extended Georgian farmhouse is approached along a drive with views of hedge-bordered pasture and arable fields to the north, south and west. There is a large ironstone walled Forecourt, modern stable block and tennis court. The family had four boys under eight, the youngest of whom would join design meetings and win hearts!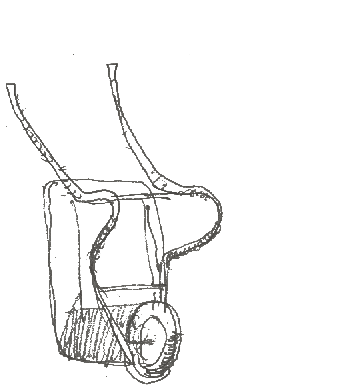 The needs of people...
The owners needed a quiet retreat from public life. A place of privacy, tranquillity and rest. In addition, they wished to establish a long-term plan for a lifelong home for their young family.
the laws of nature and of building...
The paddock planting required llama, sheep and horse proof fencing. Extensive earth moving would be required for the wildlife pond and canal. Cut needed to be balanced against fill to ensure that soil neither needed removing or importing.
the desire for beauty.
The first job was to remove the overgrown hedge on the north side of the drive to give a parkland approach to the house. The hedges on the north boundary of the property were selectively reduced in height to allow views of the rural valley to the north. Native woodland blocks were used to redefine the shape of the fields, frame distant vistas and hide an unsightly agricultural building to the south.
Later Phases (yet to be completed) include parkland planting, avenues and vistas, planting to differentiate the main and stable block approaches, and to break up the overextended main façade in order to regain the balanced proportions of the original farmhouse, to provide different views from different parts of the house - the tree lined canal and distant vista from the middle, views into more intimate family spaces from the south, and views to the croquet lawn and between trees to the wildlife pond from the north end of the farmhouse. Separate enclosed garden rooms are found in the Secret Garden, Library Garden, Tennis Court Garden and formal Walled Garden.