Contact Jonathan Ford Garden Designer
If you have a garden design project in or near West Oxfordshire or the eastern edge of the Cotswolds, I would be delighted to hear from you.
Tel: 01993 898880
---
Jonathan Ford Garden Designer,
Parson's Hill, Park Road,
Combe, Witney, Oxfordshire, OX29 8NA


---

Tel: 01993 898880
---
Company Registration Number 4827990 (England and Wales)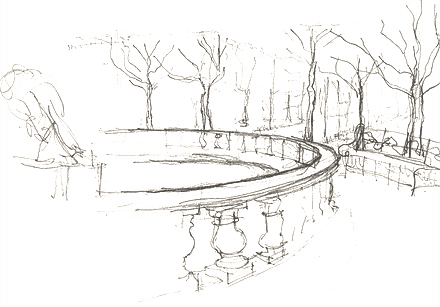 A huge thank you to both of you for a fantastic job and just to say how thrilled we both are with the project. Courtyard garden, Fulbrook
And the pond is heaving with tadpoles. So all's well in my beloved secret garden, best decision I ever made was to contact you! I'm forever grateful. Design of wildlife garden and natural pond.
As mentioned before, you have responded extremely well to what we think might have been a bit of a challenging brief. You have stayed true to the vision of interest and reveal whilst providing areas that indulge our functional needs. I can't tell you how impressed we are. The garden design fits us perfectly. Now our challenge is to make it a reality! It's been a pleasure working with you. - garden design included areas for entertaining, for children and for growing vegetables
brilliant…two ducks…three different types of wagtail…kingfisher has visited…loads of dragonflies.
But I have been in the garden a lot, whenever it isn't raining, and showing everyone my pride and joy! Just today I came across some of the books I showed you in the beginning. And, looking through them, I found many pictures which you have managed to translate into my scheme. I have got exactly what I asked for, and much much more, and I am very aware that it took a lot of skill and understanding to make it work so well! When you first appeared with a bunch of canes and set them out for the lime avenue, I had no idea what to expect, I was taken completely by surprise! But fortunately I decided to wait and see - and now, when I sit in my office looking down, or open my front door, or arrive in my car, or sit in my seating area, I can see what a brilliant idea it was! - garden design included a realigned drive, formal and wild gardens
It is a wonderful experience for me to see my dream appear in front of me. The more the garden progresses, the more I can see how well you have grasped and interpreted all my wishes, and made them fit in with the house and the surroundings.
'It was lovely to meet you yesterday, and I think that you had a good insight into my head. Perhaps more than you had bargained for? I very much get the impression that we're on the same wavelength, I was particularly happy to note your keen eye, your thoroughness, your interest and your acceptance of my eccentricities.'
'Loved your design. It's in touch with the house. One of the first designs we've done for designers that actually works.' - comment from landscape contractor working from Jonathan's garden design drawings
'My initial apprehensions quickly disappeared when I saw your pencil drawings. I think you have captured just the right feel for the garden and I look forward to seeing the final plans' - garden design illustrated by artist's impressions
My mum is here at the moment, and she thinks that you are the bees knees! She …. keeps pointing things out to me that she finds wonderful!
Thanks Jonathan much appreciated. Just off to Northumbria. Garden and driveway look superb.
Thank you very much for your blunt pencil proposals and explaining them to us at our last meeting. We appreciate the amount of thought you have put into the draft design and feel you listened to our brief well and followed it closely. You have come up with some brilliant ideas to overcome the problems we have. - following concept drawings for garden design
The features are excellent the balance of the stone sizes look great for the wall heights and the coping stones looks [sic] well balanced, I expected the cope-stones to be thicker than they are, when on plan, it all looks great. - following implementation of a garden design for a walled terrace
The garden is looking quite wonderful and we are delighted
The garden is looking stunning…the wildlife is amazing (the moor hens have gone… a deer in the formal garden… kestrel babies… a hare lives in the garden)…just what I wanted. Thank you again for a great great job.
The tree planting has transformed our garden, we now have shade, secret places and can swim without been [sic] seen, we are thrilled to bits. - design for a large walled town garden. Extensive use of semi-mature trees.
We are absolutely delighted with how the garden is shaping up. The combination of a very well-considered plan and excellent execution are resulting in something rather special that we look forward to enjoying for many years.
...we are delighted with what you did for us. You provided a carefully thought-out and nicely drawn scheme which gave us the vision we needed. Your service was courteous, patient, prompt and delivered when promised.
We are particularly impressed by the proportions of the design. The patio feels large…you have somehow made the rest of a small garden feel much bigger than before.
We found your visit and ensuing discussion really helpful.
With thanks for such a very lovely design. I hope you will come by and see it in its maturity. - garden design